Dock n' Duck
Own B.C. waterfront property that pays for itself: A rare business and real estate opportunity
The Dock 'n' Duck property is a popular gathering place located right at the Kootenay Lake Ferry landing
Sandy beaches, mountain views, waterfront property—sounds like we're talking about your favourite holiday spot.
What if you could actually purchase your happy place and earn income while you're at it? Paradise that pays? The Kootenay dream is more accessible than you might think.
Located conveniently at the Balfour ferry terminal, the Dock 'n' Duck property is right on Kootenay Lake with southern exposure. It boasts a multi-purpose lodge with accommodations you can rent out, a luxury home and scenery so pristine it looks like something out of National Geographic. Plus, it's only 30 minutes northeast of Nelson, B.C.
The Dock 'n' Duck Pub & Grill is a popular restaurant on the property, where guests awaiting the ferry love to get a bite to eat. The restaurant itself is not part of this purchase, but the owners rent the space - providing an outstanding revenue source.
A few reasons to take advantage of this opportunity:
A spectacular home, which you can live in yourself or lease nightly for $110,000 annually (60% occupancy) or monthly for $54,000+ per year
Built-in, proven income security
Year-round recreational activities are accessible right outside your front door
Temperate climate
Safe community
Amenities nearby
Live in wilderness comfort while diversified and proven income streams handily cover the mortgage. Boutique accommodation, commercial lease space and long-term tenants make it all possible.
The revenues are far from maximized. You can easily grow the current numbers with minimal expense and effort. The hard work is already done. You can live in luxury on magical Kootenay Lake while earning respectable revenue.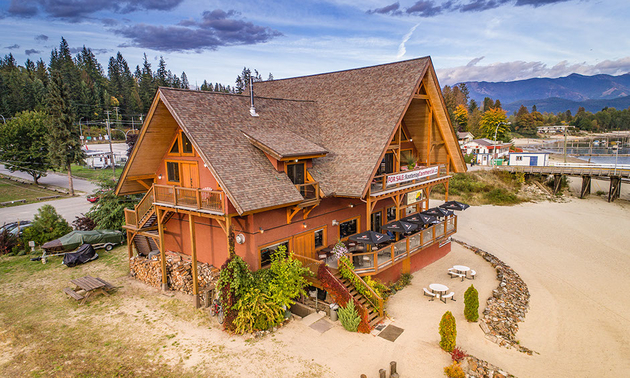 Ready to take advantage of this rare B.C. real estate opportunity? Give us a call before your golden opportunity slips away
Call us at 250-551-0631 or fill out our online form for more information on purchasing the property. You can also book a free virtual tour with the owners, so you can more clearly see yourself living your dream.
Five-star customer reviews for the Dock 'n' Duck Pub & Grill
"We stopped in for some dinner while on a quick getaway to the Nelson area. Had an absolutely stunning view of the lake from the patio! We ordered two of the seafood dishes, and the menu warned us the dishes may take more time than usual. However, food and service throughout the night was prompt, courteous, and wonderful! Even the other customers were extremely welcoming and friendly.
We so enjoyed our time, and will definitely visit again soon!"
~ Elisha, Google reviewer
"Second time eating here. A great place to grab a bite while waiting for the ferry, if I lived nearby I would frequently dine here. The food is great, the chowder is amazing and the service is perfect."
~ MJ, Google reviewer
"Large selection of food, quick and courteous service. Great views of the lake and mountains."
~ Steve, Google reviewer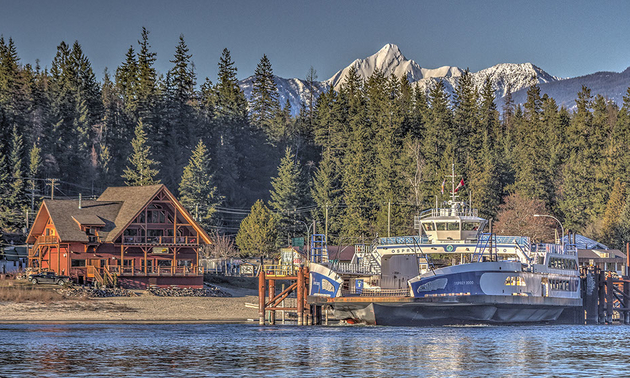 An enviable location near Nelson, B.C.
We have the best location on Kootenay Lake. The property is in Balfour, a vibrant community of 1,200 located on the sandy delta where Kootenay Lake meets its west arm. Amenities are nearby, and travel to the property is easy. Nearby centres include Nelson (30 km away), Castlegar (74 km away) and Cranbrook (196 km away).
Imagine owning a destination resort near the Kootenay Lake Ferry Terminal, which loads and unloads hundreds of thousands of passengers each year. Add the highway frontage, watercraft traffic, regional demographics, high tourist volume, world-class attractions and local trading area and you get a guaranteed, diverse customer base.
The B.C. Government has announced an exciting multimillion-dollar upgrade to the Balfour Ferry Landing next door, which will contribute significantly to future value for the property. Construction of a new ferry is also in the works.
What makes the Dock 'n' Duck property a smart investment?
There are several reasons to snap up this property while it is still on the market:
A proven track record of growing sales
With over 70 years of business history, the site is a proven money generator. Until recent owner lifestyle changes, gross revenues sustained increases of more than 10% annually, and net increased substantially more. Projected rental revenues show an easy 8 to 13% rate of return. Purchase the restaurant (a separate offering) and watch those numbers soar.

Untapped potential
Easily grow your earnings from untapped accommodation and commercial lease opportunities. The current owners chose lifestyle. A business-motivated owner could quickly turn the accommodation return from good to exceptional.

It's listed at a price lower than its replacement cost
To rebuild the 11,000-square-foot custom timber-frame structure, install utilities, add in the 1.2-acre lakefront lot, newly paved parking, new dock, plus the duplex, the replacement cost would be over $5 million. The entire investment is priced to sell at $2.95 million.
Any way you look at it, this is a solid investment. With passive revenues at a quarter million and more active revenues pushing $400,000, mortgage specialists indicate the buyer may qualify for a mortgage with an investment as low as 35% of the property value or a commercial loan at 50%.
The low Canadian dollar also means greater buying power for foreign investors.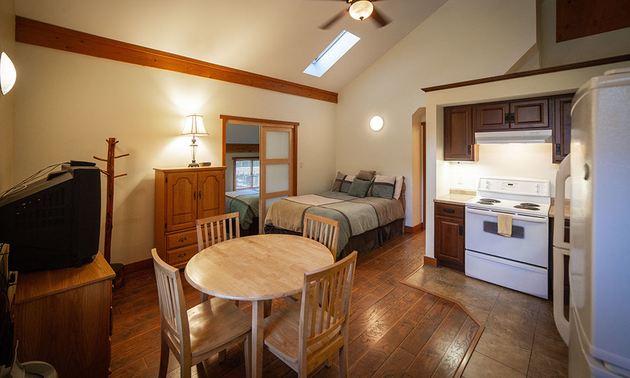 Rental income from multi-residential suites at the Balfour Terminal on Kootenay Lake
The Dock 'n' Duck property boasts five full-kitchen apartments to rent out. We have two finely detailed one-bedroom units on the upper floor and three two-bedroom units in the basement. There is also a duplex on site, which can be rented nightly for annual revenues of $150,000+ (at 60% occupancy) or monthly for $75,000 per year.
The duplex boasts a separate address and septic, and could be easily converted into a commercial or other space.
All units have their own electrical utilities and are ideal for tenancy.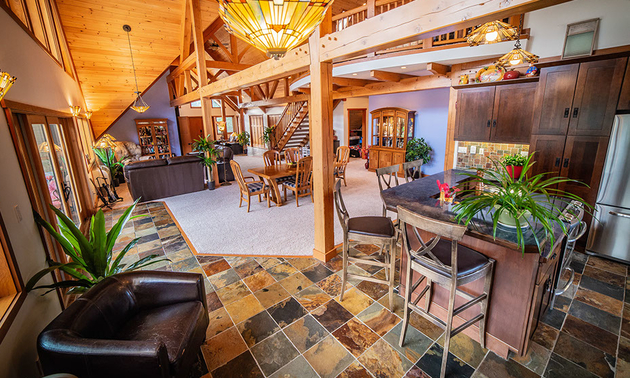 A luxury executive home for sale on lakefront property near Nelson, B.C.
The 3,400-square-foot executive home is a sight to behold. See commanding scenes of Kootenay Lake at every window, or enjoy the view from a secluded balcony. The open-concept design vaults up to 25 feet in this artisan-built, custom timber-frame masterpiece. Hand-hewn local timbers, cathedral white-pine ceilings, quarter-sawn fir doors, sparkling Tiffany stained-glass light fixtures, three washrooms with floor to ceiling tile, an oversized loft with a sizable wet bar, custom cherry wood kitchen, thoughtful architectural detailing and conscientious professional design make this one of the most impressive properties on Kootenay Lake.
Live in wilderness comfort or lease nightly for $110,000 annually (60% occupancy) or monthly for $54,000+ per year.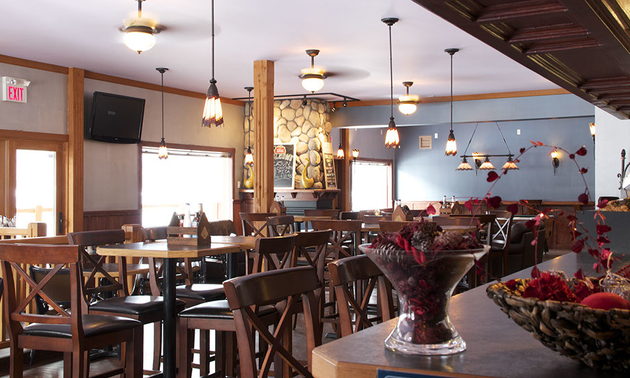 The Dock 'n' Duck Pub & Grill in Balfour, B.C., benefits from high-volume Kootenay Lake traffic
Another source of rental income comes from the Dock 'n' Duck Pub & Grill. For the past 70 years and counting, this award-winning food service operation has rented space on our lakefront property's main floor. The Dock 'n' Duck Pub & Grill is one of the most popular restaurants in the Central Kootenay region, with over 10,000 Facebook likes. Spectacular views, luxury mountain lodge decor, an oversized outdoor patio and exceptional location for ferry, highway and boat traffic ensure the commercial operation is here for the long term.
Facing the ferry is an additional 1,000 square feet of main floor retail space. There's also a commercial loading dock.
Annual restaurant lease revenues of $108,000 are conservative.
(Please note that the restaurant operation itself is not part of this offering.)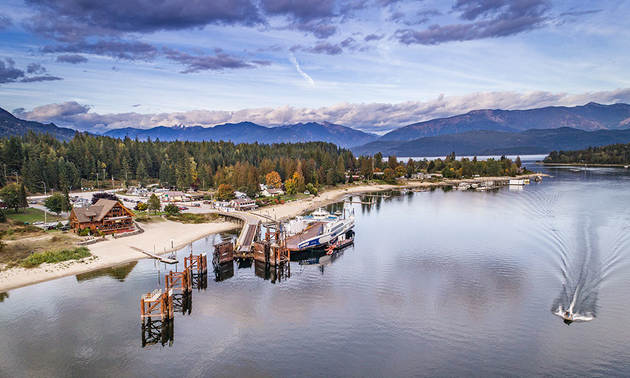 Outdoor recreation amenities abound in the Kootenays near the Dock 'n' Duck property in Balfour, B.C.
Outdoor recreationists are drawn to the Kootenays, and this property has an optimal location.
Popular activities in the area include:
World-class fishing
Water sports, including boating, sailing, kayaking and paddleboarding
Highway motorcycle rides
ATVing
Hiking
Cycling
Soaking in the hot springs
Golf
Spelunking
Snowshoeing
Snowmobiling
Skiing (alpine, cross-country, heli-skiing, you name it!)
As you can see from the list above, there is something to do in every season. You can sunbathe on the beach all summer and sled or ski on snow-laden trails when winter hits. You will never get bored.
Rental accommodations in the Nelson, B.C., region have near-zero vacancy rates
The Nelson/Kootenay Lake area boasts an extremely tight accommodation and rental market with a near-zero vacancy rate (it was 0.7% in October 2017, according to the Central Mortgage and Housing Corporation). Commercial vacancy is also low, at about 2%.
This is good news for whoever buys this property, because it means you will have an easy time renting out the accommodations all year long, with few vacancies.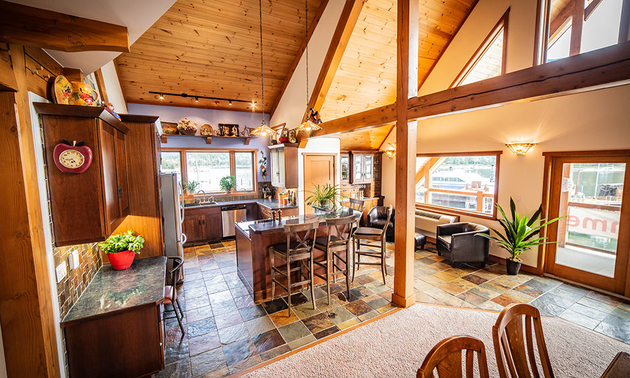 The Dock 'n' Duck property in the West Kootenay appeals to ATVers
The Kootenay region is blessed with some of the most impressive ATV trails in the country. People often take extended vacations to the Kootenays or even move here after having the quadding trip of a lifetime.
When you're the owner of the Dock 'n' Duck property, ATVers, motorcyclists and other outdoor enthusiasts will be flocking to you for refreshments and accommodations. They can grab a meal at the pub or stay in the luxurious lodgings. The advantage of coming to the Dock 'n' Duck is that they can hit the trails pretty much straight out the front door and find a wealth of nearby wilderness to explore.
RVers love travelling through the Kootenays in southeastern B.C.
You'll also see your share of RVers coming through, as many travel over the Kootenay Lake Ferry to reach their destinations or to camp in the nearby areas. Stopping for a bite to eat at the Dock 'n' Duck is a treasured memory for families travelling or camping in the West Kootenay.
Snowmobilers and other winter sports enthusiasts often visit the West Kootenay for its abundant snowfalls
The woodland terrain in our area gets even better when the snow hits. Sledders, skiers and others who love winter sports will be frequenting the pub and enjoying the warm, cozy lodging on a regular basis. The Dock 'n' Duck is the perfect sanctuary to put your feet up and relax after an exhilarating day on the trails.
Jump on this prime opportunity before it's gone
Don't waste another second - contact the owners today at 250-551-0631 or send a message via their online form to book a personal tour.