Rugged, lightweight, and rust-free: why aluminum utility trailers are the best way to haul your ATV
Check out the extensive aluminum trailer line-up from Western Canada's premier trailer dealer—Vantage Trailer Sales
Aluminum trailers are the perfect way to haul ATVs to the trailhead or jobsite. They're tough enough for rough backcountry roads, lightweight for easy towing, and resistant to rust even when you're driving through muddy dirt roads and rainstorms.
Vantage Trailer Sales has an excellent selection of top-notch aluminum utility trailers designed specifically for all-terrain vehicles.
Why choose Vantage Trailer Sales?
Finding a trustworthy trailer seller can be a daunting task. Fortunately, Vantage Trailer Sales has the reputation to match the quality of the trailers they sell. In the many years that they've been in business in Lethbridge and Lacombe, Alberta, Vantage Trailer Sales has helped over 3,000 customers find a trailer that suits their needs. You can experience exceptional customer service just like these valued customers:
"They back their work, value their clients and go above and beyond to get you back on the road again. One happy customer. Thank you, Vantage Trailers." — Eileen Juhasz
"A new trailer is a once in a lifetime purchase for me. I couldn't be happier with my experience working with the crew at Vantage in Lethbridge. Highly recommend!" — Bonnie Warkentin
"Incredible experience dealing with Vantage Trailers . . . they are efficient, accommodating, and friendly. Highly recommend Vantage Trailer Sales." — Kenda Butterfield
Browse Vantage Trailer Sales' quality utility trailers for sale in Alberta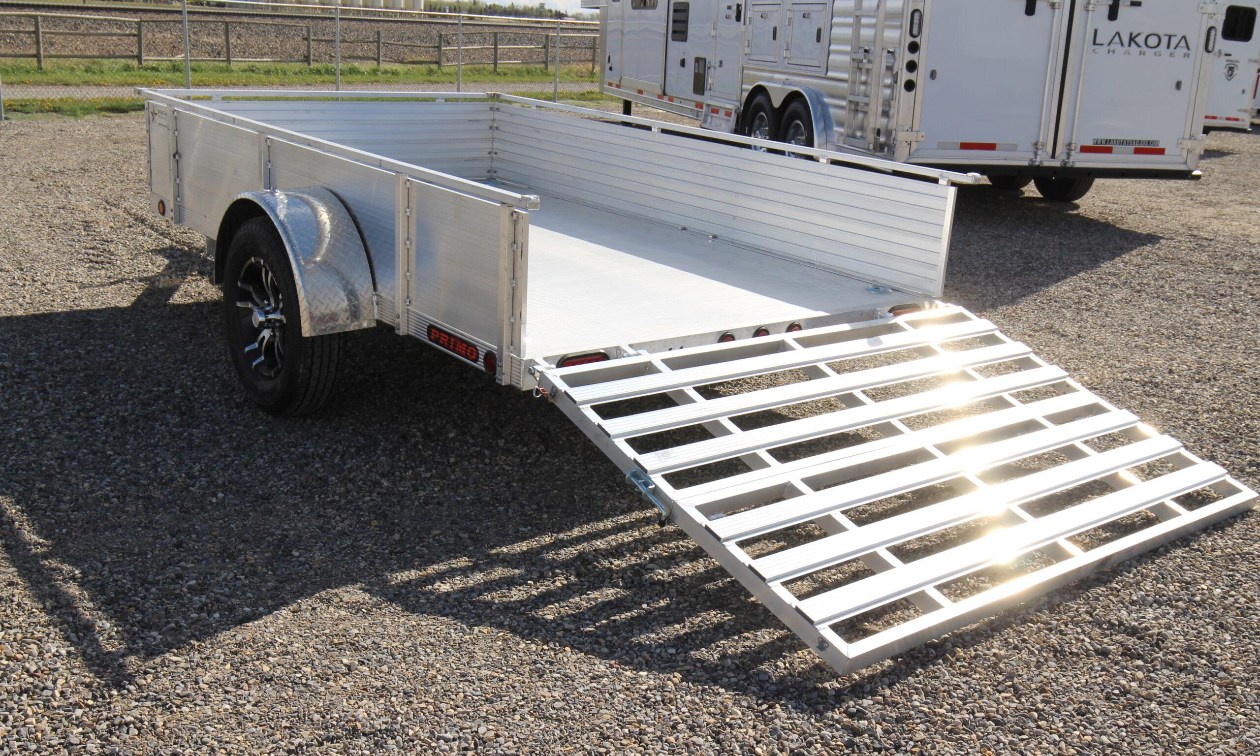 Aluminum advantages: Light weight aluminum trailers means better fuel efficiency and easier towing.
Advantages of aluminum trailers for transporting ATVs:
Lightweight: Aluminum trailers are typically lighter than trailers made from other materials like steel. This weight advantage can result in better fuel efficiency and easier towing.
Corrosion resistance: Aluminum is naturally resistant to corrosion and rust, making it ideal for trailers that might be exposed to various weather conditions and road salt.
Durability: Despite being lightweight, aluminum trailers are generally durable and can withstand the rigors of off-road use and bumpy trails.
Better payload capacity: Due to their lighter weight, aluminum trailers often have a higher payload capacity, allowing you to carry more ATVs or other cargo.
Lower maintenance: Aluminum trailers require less maintenance compared to some other materials, as they won't rust or corrode over time.
What brand of trailers does Vantage Trailer Sales carry?
Our inventory proudly showcases a range of ATV trailers from Primo Trailer Manufacturing, and there's a compelling reason behind this choice—their unwavering dedication to crafting the finest products in the industry.
What are the top five practical uses for Primo aluminum utility trailers?
Transporting construction/landscaping equipment: These trailers provide a robust and reliable means to transport heavy machinery and construction equipment to job sites.

Moving large household items: They provide ample space and a secure platform to load and transport large household items, reducing the need for multiple trips and minimizing the risk of damage during transit. Their lightweight nature means you don't need a heavy-duty truck to tow them.

Hauling agricultural equipment: Their rugged construction ensures they can withstand the demands of the agricultural environment, from muddy fields to uneven terrain.

Hauling small vehicles/UTVs/ATVs: They are lightweight, making them easy to tow with a variety of vehicles, and they provide a secure and convenient platform to load and transport these vehicles.

Event and exhibition materials: Whether it's setting up for a trade show, organizing a community event, or moving equipment for a concert, these trailers offer a versatile solution.
Hauling small vehicles, UTVs and ATVs is one of the primary purposes of Primo Trailers.
Browse Vantage Trailer Sales' quality utility trailers for sale in Alberta.
What size ATV trailer should I get?
A trailer measuring 4 feet by 6 feet is generally sufficient for transporting one ATV. However, if you plan to carry two ATVs simultaneously, you'll need a more spacious 6-foot by 12-foot trailer.
Typically, a trailer spanning at least 16 feet in length is required to accommodate three off-road adventurers comfortably.
What kind of ramps are available for loading ATVs onto the trailer?
For an ATV, you'll want to have some kind of a ramp system, either built-in or a slide-in ramp. Flip-down ramps are available on aluminum trailers and steel trailers come with slide-in ramps.
What kind of warranty do Vantage Trailers have?
PRIMO all-aluminum trailers have a five-year structural warranty.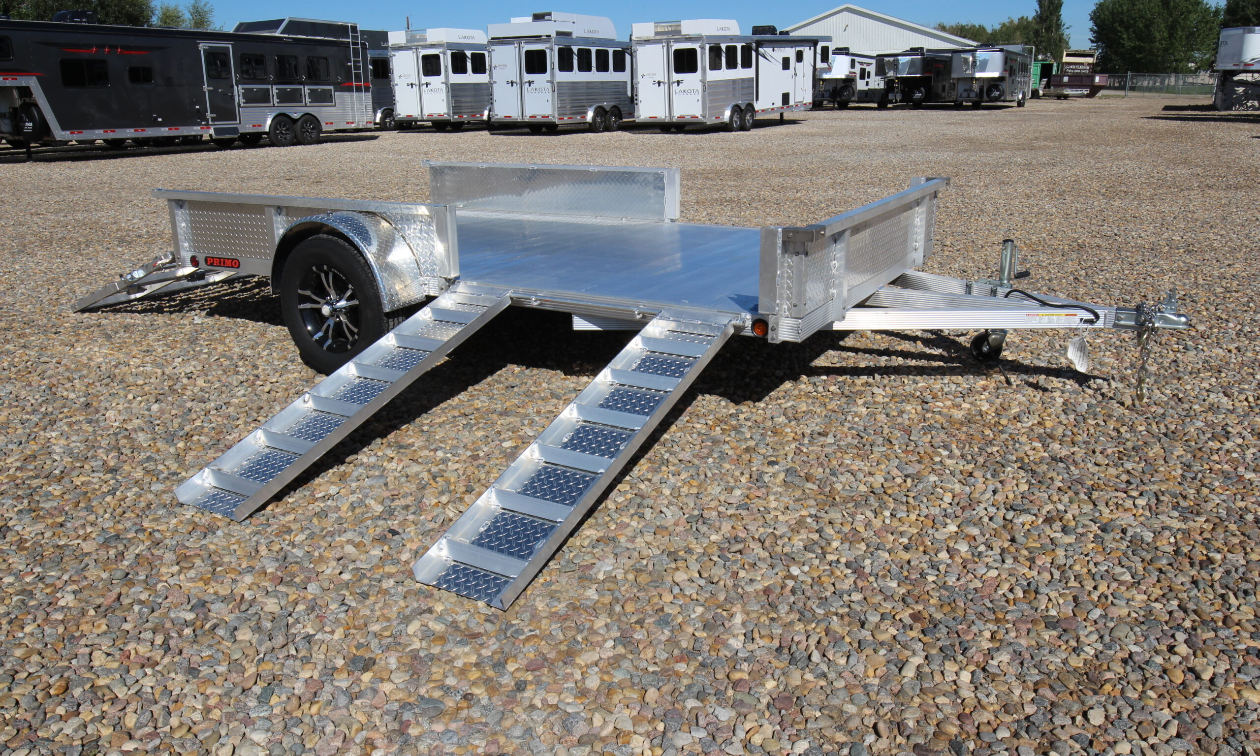 Vantage Trailers has the perfect ATV trailers, ramps make it easy to load and unload your ATV's.
How easy is it to load and unload the ATV onto the trailer?
Simple. Flip down the ramp at the back, drive the ATV on, strap it down, lift up the ramp at the back and away you go.
Browse Vantage Trailer Sales' quality utility trailers for sale in Alberta.