Darren James had the kind of childhood that only comes once.
Born and raised in a Harley-Davidson dealership, the son of Canadian Motorcycle Hall of Famer Don James (and a godchild of the late, great Trevor Deeley), grew up on a steady diet of horsepower, chrome and leather. He, of course, learned from a young age to love riding bikes—whether it was on dirt or asphalt.
He was a late bloomer, though, when it came to racing.
As a youth, James got into some trouble and at 17 was faced with a major decision: either go to a youth camp or work on a Harley-Davidson demo tour truck.
He chose the latter, and spent the next four years apprenticing with a "six-foot-six, 260-pound monster of a man" named Jim Ryder.
"(He) really helped steer me in the right direction," said James.
Changing lanes in life
When he turned 21, James was put on his own demo truck for two years before the Harley-Davidson Motor Company hired him as a comparison rider for its subsidiary, the Buell Motorcycle Company.
Then it was off to Europe, and onto a faster track in life.
"I spent about eight months all over Europe, doing all sorts of stuff, but I did a lot of test riding . . ." said James. "And then I was at an event. It was called German Speed Week in East Germany at a race track called Oschersleben. It's world renowned. I was there as a test rider. I test rode probably 200 Buells in three days and then I got an opportunity to go on the race track on a race bike."
And he was hooked.
"I finished up my contract, came home and sold everything I had," said James. "I bought a Dodge pickup truck, put a camper on the back, bought a trailer and one motorcycle and I lived in that truck and trailer for the next three years."
James followed the Canadian National Superbike Championship (CSBK) as an amateur for five years before turning pro in 2005. That same year, he won the Canadian Thunder National Championship aboard a Buell and again in 2006. At the time, he also had a CCS Thunderbike Championship under his belt from the 2004 Daytona Race of Champions weekend.
By 2007, James had made a name for himself and his team, Ruthless Racing Inc.
Adjusting to a new seat
In the early days of his career, James raced for Yamaha as well as Buell, but his primary focus was Buell, so when Harley-Davidson decided to shut down the production of Buell Motorcycles in 2009, James thought his career was over.
The Ruthless Racing team in 2009. — photo courtesy Caroline James
"I was in a state of shock," he said. "I bled Buell. Whether I wanted to be or not, I was the face of Buell Motorcycles in Canada."
As luck would have it, an opportunity arose for James to race for London-based Warr's Harley-Davidson in the British Superbike XR1200 Championship—which is a special Harley series featuring a slightly modified version of the Motor Company's XR1200 Sportster.
After Harley-Davidson shut down Buell Motorcycles in 2009, Darren James went to Europe to race for the Warr's Harley-Davidson team on an XR1200; he finished fourth in the British Superbike Championship. — photo courtesy Caroline James
James was teamed up with world champion motorcycle racer Jeremy McWilliams.
"It was probably the best year of racing I've ever had in my life," he said.
By the end of the season, James was fourth overall in the British Superbike XR1200 Championship. He came back home to Canada, contacted the CSBK board of executives, on which he sat, and started figuring out a way to bring the XR1200 series to Canada. By that time, it had already made its way into the U.S. in the form of the AMA Pro Vance & Hines XR1200 Series.
With the help of Deeley Harley-Davidson Canada, the CSBK managed in 2011 to get the Harley-Davidson XR1200 Cup Championship off the ground.
He brought back what he learned from the British XR1200 series to Canada and helped the CSBK start the Harley-Davidson XR1200 Cup Championship. — photo courtesy Caroline James
For the next three years, James followed the XR1200 series in Canada and in the U.S. He was top three in Canada and was actually planning his retirement from the racing world when tragedy struck.
Losing a great friend
Teammate and CSBK hopeful John Ross (JR) McRae—who was from Calgary, Alberta—crashed in a qualifying race for the Harley-Davidson XR1200 Cup Championship season finale. James, who was first on the scene, said McRae died in his arms.
He was devastated.
"JR was with me for over 10 years," said James. "Not only was he my teammate, but we lived in a truck together, we travelled together, we lived in hotel rooms together—all these things—so that was a tough one."
Darren James (far right) podiumed with Steve Crevier (centre) and teammate John McRae (far left) in 2013 for the AMA Pro Vance & Hines XR1200 Series. — photo courtesy Caroline James
Retiring was no longer an option.
"I was going to retire last year but when that happened, as a racer I couldn't go out like that," said James. "My friend certainly wouldn't want me to do that."
James was also JR's mentor, and he said that watching him grow into a promising racer was better than any race James had ever won.
"To be honest, my biggest accomplishment wasn't me," said James. "It's been helping out young up and coming talent. JR was a prime example of a young man with all sorts of talent, just absolutely amazing skills. He worked at it and made it and he was on his way."
The race is still on
So this year, James is going to give it all he's got.
With the Harley-Davidson XR1200 Cup Championship now defunct, James will be focusing on the AMA Pro Vance & Hines XR1200 Series, as well as the AMA National Endurance Championship. In Canada, he will be racing the Canadian National Superbike Championship, but this year on a Yamaha YZF-R6 sport bike.
"I'm throwing everything I have at it this year and I'm going to let the chips fall where they may," said James.
Finishing the season on the podium in Canada and the U.S. would be ideal, but for James, winning isn't everything.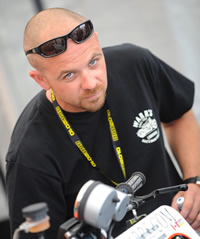 He said, "For me, motorcycle racing is that pure individual aspect. It's me against the race track. It's not even about the guy next to me. You're running against the clock and it's what you and your body can take, and what your mental abilities are, because you can be in less than average shape and still be a good motorcycle rider. But if you don't have the mental game, you're done. That is the hardest part of motorcycle racing and that's probably the part I like the most."
How long the now 37-year-old husband and father of twin girls will keep racing is a question that James can't even answer. His ultimate career goal, though, is simple:
"I just hope to leave a lasting mark on this sport."