Looking for a dirt bike destination where you can ride motocross as well as endurocross, trials and even flat-track? The city of Regina is home to an off-road motorcycle park that proudly boasts five different tracks and riding areas, so there's something for every kind of rider—and the park is only minutes from the city. Below, you'll find information about membership fees, upcoming events and the dirt bike club that looks after Moto Valley Raceway.
Local motocross track
Professional motocross racer Shawn Maffenbeier calls Regina's Moto Valley Raceway his home track. It is designed, however, for riders of all ages with varying levels of experience. The park is situated in a river valley east of Regina, and it features a main motocross track and a scaled down version of it for the peewees. There is also an endurocross section, a trials riding area and a dirt oval track.
Big names in motocross have competed at Moto Valley Raceway. — photo courtesy Regina Motocross Club
Features: The soil at Moto Valley Raceway is mostly hard-pack and the layout takes advantage of natural elevation changes. The upper section of the park features supercross-style jumps and more man-made obstacles.
Hours of operation: For members, the park is open all the time. Non-members can ride on Wednesdays from 5 p.m. to 9 p.m.
Track passes: An annual membership costs $400, but there is a possible $200 rebate for those who participate in volunteer activities. For non-members, the Wednesday night rides are $20 per rider. More information about memberships can be obtained by contacting Dean Murphy at 306-530-5887 or Vic Stuart at 306-535-0088. In the spring, the club also organizes membership drives, which take place at the local bike shops. Visit the website for the dates.
Local dirt bike club
Regina Motocross Club
Moto Valley Raceway is operated by the Regina Motocross Club. This family-oriented group was started in the early 1970s and it is affiliated with the Saskatchewan Motosport Association. The club regularly hosts the CMRC provincial series and the Rockstar Energy Drink Motocross Nationals. New members are always welcome to join, and the club has a meeting once a month.
Local events
Rockstar Energy Drink Motocross Nationals - This 10-round series, which is sanctioned by the CMRC, usually makes its way to Regina's Moto Valley Raceway in June. With it comes some of the best racers in Canada and the U.S. It's a great event for spectators.
CMRC Amateur Day - Held on the same weekend as the Rockstar Energy Drink Motocross Nationals, the CMRC Amateur Day is an opportunity for anyone with a CMRC licence to compete.
Southeast Corner Racing Circuit - Moto Valley Raceway has also been hosting a round of the SCRC. In 2016, the event will take place on September 10 and 11.
Hometown race heroes
Tourism info
Regina dirt bike shops
The Buzz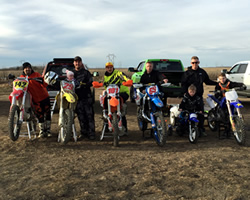 "We have lots of spectator parking and every year we have been adding more vendors (for the national race). The calibre of riders that have been coming through the national circuit has been pretty crazy. Every year, it seems to be growing. And the club in general is growing. Some years, we have lots of young people and then they drop off, and it get slow. But we're on the upswing now." — Dean Murphy, vice-president of the Regina Motocross Club and the event co-ordinator for the Rockstar Energy Drink Motocross Nationals in Regina.